Arita, Saga. This region became the birthplace of Japanese porcelain in 1616
when a group of Korean potters led by Yi Sam-pyeon discovered high quality pottery stones.

The early styles of Arita porcelain predominantly consisted of uniform indigo patterns on a white base. In the 1640s,
Sakaida Kizaemon (the founder of the illustrious Kakiemon kiln) began adding red decorative patterns called aka-e.
The addition of red-colored elements marked a notable stylistic evolution of Arita porcelain.

In the 1650s, the Dutch East India Company began exporting Arita porcelain to Europe.
There, Arita pieces were traded at prices comparable to gold.
The elegance and traditions of the Arita pottery heritage and its decorative techniques is
said to have had a profound influence on Meissen porcelain.

The beauty of the translucent white porcelain and the vivid, detailed decorative illustrations elevate Arita porcelain into
valuable art pieces, while the durable yet thin, light-weight features also make them superior dinnerware pieces.
※The prices is based rate (2015/December), it can be changed.
Ship fee from Japan and Custom Duty is NOT INCLUDED.
● How to Buy
Please kindly send us your order list with these info via inquiry form, we will check ship fee, lead time.
1. YOUR NAME
2. SHIPPING ADDRESS, EMAIL, TEL No.
3. ITEM NUMBER and ITEM DESCRIPTION
4. QUANTITY
5. SHIPPING REQUEST (by Air or by Ship)
For professional buyer for retail or restaurants and hotels, we can offer special prices, please ask us.
● How to Pay CREDIT CARD paying with PAYPAL
You can pay with credit card using paypal system (www.paypal.com)
Using paypal, you do not have to tell us your credit card number, just fill out your information in the web.
● Shipping
Once we received your payment, we will ship them within 5days.
Custom Tax is NOT included, so please pay tax when you receive your order.
● Return Items
You must request a return for refund within 40 days after the invoice date.
No refunds are issued after 40 days.
You will pay returning ship fee.
This piece is Arita's interpretation of the bamboo sake carafes that were icons of the sake service at Matsuhisa. The blue color of the vessel is known as gosu and is a cobalt based paint that this unique to Arita porcelain.
The shape mimics the cylindrical shape of bamboo and the pour spout ensures a clean pour yielding a design that balances both beauty and functionality.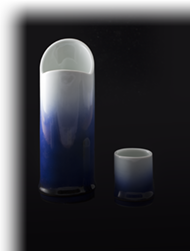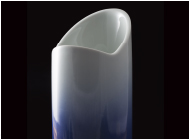 Sake Bottles :
7.5cm diameter×21cm height
Item Number:AN-SBTL
Price:$78 (tax included)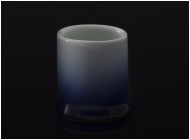 Sake Cups :
5.5cm diameter×6.5cm height
Item Number:AN-SCUP
Price:$16 (tax included)
The circular sauce holders on the rim of this piece feature Arita's iconic red decorative pattern with color gradation. This sequence of red dots is an expression of fluidity and wa - Japanese for harmony.
This dessert plate is a dish of many appearances.
The imagination of the culinary artist will determine which face it reveals.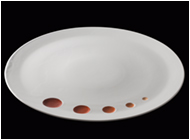 Dessert Plate :
30cm diameter×1.5cm height
Item Number:AN-DSTP
Price:$104 (tax included)
Hand-rolled sushi typically is handed directly from the sushi chef to the customer.
This piece achieves a higher functionality and is ingeniously designed to evoke a sense of beauty and elegance like that of a bouquet of flowers in a vase.
The simplicity of the design makes it suitable to use for presentation of hand-rolled sushi and more.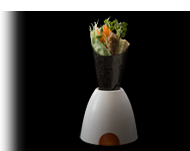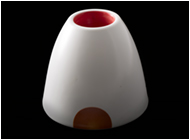 Sushi Roll Holder :
8.6cm diameter×8cm height
Item Number:AN-SSTD
Price:$26 (tax included)
This plate evokes a sense of dynamism highlighted by the iconic red color of Arita porcelain and a softness expressed by the rounded edges.
Japanese sushi vessels traditionally feature black on the outside and a lacquered red layer on the inside.
When Nobu opened his first restaurant overseas, these sushi vessels were not available compelling him to use standard white plates.
Sushi chefs, however, are taught to serve sushi on a red surface, and Nobu's training takes him back to his roots. This piece was created utilizing Arita's red colors and imagined by Nobu's desire to serve sushi on a red surface.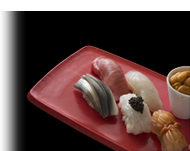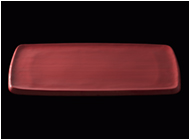 Sushi Plate :
29cm length×15.5cm deep×
2.4cm height
Item Number:AN-SUSP
Price:$53 (tax included)
This piece was designed based on Nobu's desire to present his diners with an array of flavors on a single plate.
A modern Japanese aesthetic is achieved by incorporating rounded edges and flat surfaces at the base of each plate, consistent stylistic themes for this dinnerware collection. Each small plate can be used individually or together.
The red circular pattern at the middle of the large base plate can also be incorporated in the presentation and is a piece that possesses limitless possibilities.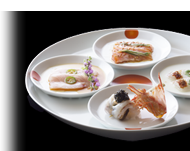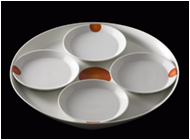 Four-Piece Sample Plate
(small plate) :
10.5cm diameter×3cm height
Item Number:AN-4PSP
Price:$11 (tax included)
Four-Piece Sample Plate
(large plate) :
29cm diameter×4cm height
Item Number:AN-4PLP
Price:$104 (tax included)
This piece, expressing the Japanese spirit of wa or harmony, is the signature plate of the ARITA × NOBU collection.
The iconic red color portrays the rising sun.
The stunning red gradation, achieved by precisely overlapping impressions of the red decorative patterns, highlights the glossy whiteness of the plate.
The result is a perfect culinary canvas for your kitchen creations.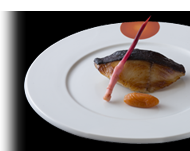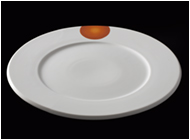 Design Plate :
31cm diameter×2.5cm height
Item Number:AN-LDSP
Price:$104 (tax included)
Applying classical matcha bowl pottery techniques, a mixture of glazes produces the complex color profile in this matcha bowl.
The intention of creating this piece was to enhance the Japanese matcha experience by allowing those that sip matcha with it to sense the aromas and flavors and the subtle warmth of the bowl.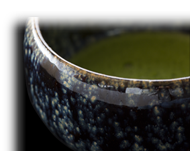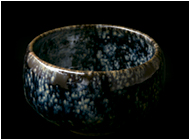 Matcha Bowl :
12cm diameter×7cm height
Item Number:AN-MATB
Price:$72 (tax included)
This bowl with its depth is a multi-functional piece that can be utilized for salads and more.
The illustrations extend beyond the inside surface and on to the outside of the piece.
The single red circle, visible from both the inside and outside, yields a dinnerware design of striking prominence.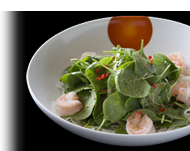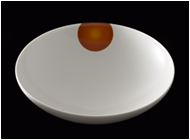 Design Bowl :
24.5cm diameter×7cm height
Item Number:AN-SLDB
Price:$73 (tax included)
This earthen hot pot is made from a specially blended mixture of heat resistant soils.
It can be placed directly on an open flame for grilling or be placed directly into an oven for roasting.
Its versatility expands the cooking possibilities refining the food that is prepared whether it's at home or in a professional kitchen.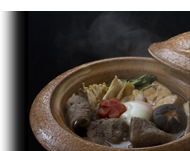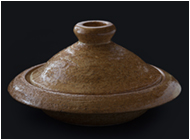 Earthn Hot Pot :
22.5cm diameter×
12.5cm height
Item Number:AN-HOTP
Price:$87 (tax included)